Post by Trigger on Jun 11, 2011 10:58:09 GMT -5
YOUR BASICS
Name: Charlotte
Alias:
Gender: Female
Age: 13
Height: 1'8"
Weight: 15 pounds
Appearance: Charlotte is a bit bigger than Trigger in terms of size. She is a pretty dalmatian with bright blue eyes and heart shaped spots all over her body and face. Her left ear is black and her right ear is white with a cluster of three heart-shaped spots on it, and the tip of her tail is also black. She wears a purple collar with a red heart-shaped tag attached to it. It should also be noted that the fur on the top of her head is also a bit scruffy.
Picture (optional):
She's the one on the very left.
YOUR BACKGROUND
Mother: Rebecca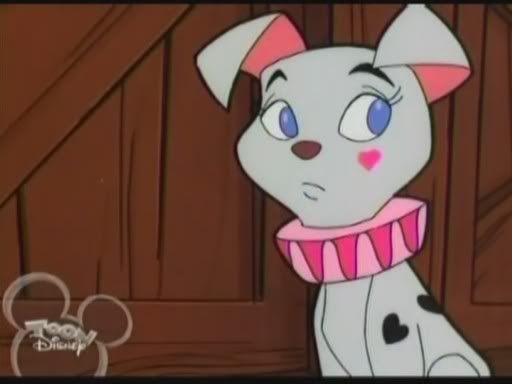 Father: Dipstick
Any Siblings?: Two siblings that I have yet to design, name, and give genders to. CX
How did your parents get together?: After DeVil Ville disappeared when Lucky, Cadpig, Rolly, and Spot left, Rebecca was accidentally left behind and ended up lost in Lucky's time period. She eventually made her way to the farm where Lucky and the others welcomed her with open arms. She and Lucky became good friends, but that was all. She also became good friends with Dipstick, and as they grew up it became more apparent that they enjoyed each other's company quite a bit. Although it was a bit goofy, Dipstick was the one that ended up confessing his feelings first. Rebecca didn't really need to confess to much since Dipstick had said what she was thinking.
AU you come from: My fanverse, same as Trigger.
YOUR PERSONALITY
Basic Personality: Charlotte is a gentle little girl and fairly soft spoken. She doesn't like fighting and often tries to break up what fights she does see going on, but due to how quiet she can be at times she tends no to be taken very seriously when she tries to stand up for what she thinks is right. However, she isn't quick to anger. Charlotte typically is viewed as the peace maker of Trigger's group because of this. Sometimes she can be just a bit slow on the uptake of things, but otherwise she certainly doesn't let that stand in her way of having a good time with her friends and doing what she can to help when something happens around the farm.
Likes: Trigger, Blitz, Camellia, her parents, her siblings, long walks around the farm, and stargazing.
Dislikes: Fighting, being called slow (she's just a tiny bit slow on the uptake, not completely slow), and seeing her friends putting themselves in dangerous situations.
Fears: She fears that one day Blitz's recklessness might get him seriously injured, and she also fears that Trigger might not feel the same way she does about him.
Hopes and Dreams: Charlotte hopes to live a quiet life on the farm with Trigger, Camellia, and Blitz. No real big dreams for this girl.
Temperment: Charlotte is typically a little shy around new people, but once she gets to know someone she is quite friendly. If threatened, she will try to reason with whomever has threatened her but this sometimes doesn't work in her favor.
YOUR STORY
History: Charlotte was born one of the three children of Dipstick and Rebecca, specifically as the middle child. She was named by her mother because the name seemed to fit her quiet personality. Charlotte spent a lot of her time with her two siblings once they had grown up enough to explore the farm by themselves, but one day she met a three-legged dalmatian pup and a border collie pup. She was curious about them, and so decided to try and talk to them. However, it was the border collie that spoke first. He said his name was Blitz and that the three-legged pup was his adopted brother and friend who was called Trigger. Charlotte didn't quite know what to think of Blitz's upfront greeting, but she couldn't deny that she liked the two. At last, she introduced herself. It wasn't long after that that the trio met up with a chicken called Camellia. After that, the four became best friends and spent their days living a peaceful life on the farm.
Then, one day, everything changed. Charlotte woke up to discover that she was no longer on the farm. Instead, she found herself on a completely different farm. When she determined that Trigger, Blitz, and Camellia were nowhere to be found, she became a bit scared. She wanted to go home, or at least find Trigger.
JUDGEMENT
Sample Post: "Trigger? Blitz? Camellia? Where are you guys?" Charlotte wasn't having a great day. First she had woken up on a strange farm and now she was coming to grips with the fact that her best friends were nowhere to be found. Her tail drooped slightly. Where were they? Where was she? Where were mom and dad? The heart-spotted girl let out a soft sigh as she approached an apple tree, settling herself under it after just a moment. Charlotte appeared to be alone.
"I just hope Trigger is okay." Charlotte said. She was also concerned for Blitz and Camellia, of course, but her main concern was Trigger. She hoped that he hadn't gotten himself into any trouble.