Felice
Jun 11, 2011 23:13:10 GMT -5
Post by Lucky Jr on Jun 11, 2011 23:13:10 GMT -5
YOUR BASICS
Name: Felice Dearly
Alias: None
Gender: Female
Age: 6 months (13 in human standards)
Height: 20 cm
Weight: 96 LBS
Appearance: Felice is a Dalmatian pup with black on her lower legs and paws, she has three spots on her hip and a large black spot with a very unique horseshoe
pattern on her back. her eyes are green like her mom's.
Picture (optional):
YOUR BACKGROUND
Mother: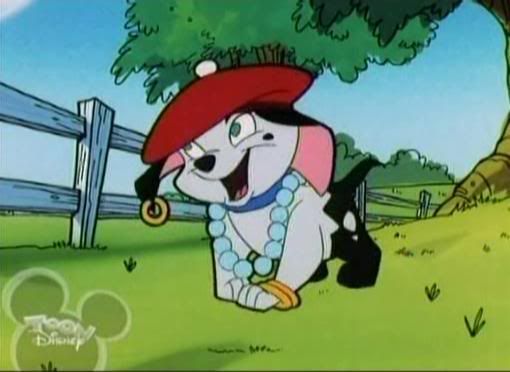 Two-Tone
Father: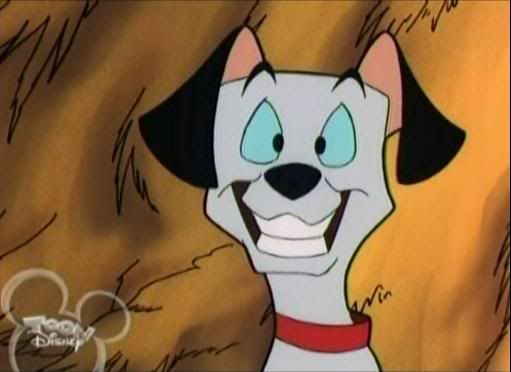 Lucky
Any Siblings?: AU Lucky jr, AU Beyonca
How did your parents get together?: During the time of the war Lucky was redeemed as a hero but Two-Tone was still an animal villain till the death of Penny Dearly, Two-Tone had snuck over to the heroes camp and watched her sister's funeral, she left before it ended and returned sometime later only for Clopin to see her, Two-Tone fled back to the animal villains, Buster and Two-Tone spoke in a heart felt chat and Buster allowed Two-Tone to defect to the heroes to be with her family, Two-Tone at first tried to object wanting Buster to come with her, the junkyard king refused citing differences between himself and the Dear family, in particular Tramp, Scamp, and Angel. Two-Tone said her goodbyes and joined the heroes.
Once in the heroes Two-Tone found herself persicuted by Lucky only for Scamp to stand up to the arrogant dalmatian citing Lucky's own villain time as a human villain, Lucky and Scamp almost came to blows before the Animal villains appeared unexpectedly, Scar revealed Two-Tone was to be terminated for her betrayal, Wizzer revealed Buster was already dead thanks to Scar's order, a devistated Two-tone mourned Buster as Wizzer taunted her, Lucky flew into rage and attacked Wizzer sparking an all out fight, Simba wounded Scar in the battle forcing an AV retreat. The heroes regrouped themselves as lucky was rushed to the MASH tent after Kiara had attacked him
During the time many more deaths happened in the war including Penny (bolt's owner) and Scamp both dying. Simba fell into depression only to be reinspired when the spirit of Mufasa appeared to him along with both Pennys and Scamp. Simba now renewed planned an all out invasion of the Animal Villain's base, but during the raid Clopin and the Beast arrived and warned simba of a threat from the human villains. A bomb developed by the combined efforts of Charles Muntz and Bowler Hat Guy. Simba rallied his troops to Pride Rock. Once there Simba ordered supplies to be moved onto Carl Fredrickson's airship, the move seemed to be without a hitch till Scar and Zira along with the Animal Villains appeared. Scar and Simba forged an uneasy alliance
The Dearlys and the other heroes moved into their quarters only to see the AVs as well. On deck Simba and Nala joined Carl and the others as they saw Muntz's own airship. A comment from Alpha aroused Simba's suspicions as he sent Nala down below. Jumba revealed he has an ace up his sleep. his ace turned out to be Snafu, the sabotage experiment had snuck aboard the human villains' airship and was rewiring Muntz's bomb. Bonnie had caught Snafu but not in time, a panicked Bonnie ran to the deck but the bomb was launched only to destroy the ship and the human villains with it.
Simba breathing a sigh of relief was caught by a sneak attack by Scar, Simba however revealed to Scar he knew what his uncle was up to as Nala threw Zira down infront of Scar, the two lions battled it out with Scar being thrown off the airship and hitting the ground below with a bone crushing thud. Simba watched to be sure
Scar was dead
the heroes had won the war at long last. Lucky and Two-Tone soon fell in love and began a family...
AU you come from: DWoW AU (heroes win the war)
YOUR PERSONALITY
Basic Personality: Felice can be considered happy go lucky at times, she's also headstrong like her dad but quite ever changing like her mom.
Likes: Hanging with her siblings, adventures
Dislikes: Villains
Fears: being alone, another war like the last one
Hopes and Dreams: To make her parents and family proud of her
Temperment: She's a carefree pup and loves to make friends, but she's easily irritated if somebody brings up her parents' villainous pasts.
YOUR STORY
History: Felice was one of three pups born to Two-Tone and Lucky Dearly, she grew up in the awe of her siblings Lucky jr and Beyonca. for Felice life on the farm was good and peaceful eversince the war had ended, Felice adjusted to adventuring with her siblings in the swamp or at the now abandoned Villa De Vil. The pups also closely bonded to their many aunts and uncles.
One day Felice was listening to Rebecca whom she and her siblings looked up to as a aunt figure, Rebecca was telling them about her old home in De Vilville, Felice listened to the story and when Rebecca finished Felice wondered if the area where Devilville once was at still existed, ever curious Felice headed off to find it before being blinded by a light...
Felice awoke in a strange new place..... a place she felt alone at.
JUDGEMENT
Sample Post: "Hello? Mom? Dad? Anybody?" Felice cried out, she looked around the area trying to figure out where she was at, she whimpered a bit feeling alone.
"Where am I?" She wondered, she decided to go search for the farm. She took off down the road