Post by Kain Marek on May 4, 2011 21:49:26 GMT -5
Name: Kain Marek
Alias: N/A
Gender: Male
Age: 26
Height: 5'12
Weight: Average
Appearance: Reddish-brown hair, blue eyes, wears grey and blue-green robes, black pants and boots, wields two green bladed lightsabers
Picture (optional):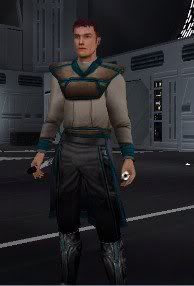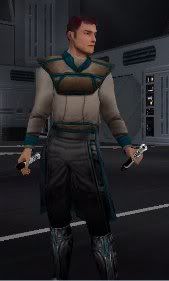 Mother: Juno Eclipse
Father: Galen Marek (The Secret Apprentice AKA Starkiller)
Any Siblings?: N/A
How did your parents get together?: After Galen (Cloned Starkiller) escaped Kamino and defeated Vader, he and Juno Eclipse started a life together. They made a home for themselves on the planet of Coruscant where they had a son, Kain Marek.....
AU you come from: Star Wars Universe
Basic Personality: Kain is caring and kind, but sometimes can get angry and filled with rage, this is due to his mastery of the Dark Side of the Force, although Kain remains on the path of the Jedi....
Likes: Using the Force to help people, caring for others
Dislikes: People who cause him to be angry
Fears: Nothing....He's a Jedi and knows that Fear is the path to the Dark Side....
Hopes and Dreams: To become a powerful Jedi
Temperment: He is peaceful around others although sometimes can get angry and tap into his Dark Side powers. Kain often will help others when they are in need of his guidance or assistance....
History:
Born on the planet of Coruscant to Galen Marek and Juno Eclipse, Kain was taught in the ways of the Force by his father. Galen taught his son both the Light and Dark powers of the Force, soon Kain was a Master of both sides yet he wasn't all powerful, he was skilled in the Art of Lightsaber Combat and a strong user of the Force. His father would send him on missions throughout the galaxy to test his skills, Kain would fend off the Empire and no one knew of his existence, not even Vader or the Emperor himself as he was Galen Marek's own Secret Apprentice. Kain wielded two green lightsabers, one of which he held backhanded similar to his father. Kain also wielded powers that his father had posessed, such as Force Repulse, Lightning and other Force Powers
Upon entering a new world, Kain went in search of imperial forces who sought to destroy any remains of any Jedi......
Sample Post:
Kain landed his ship on a new planet, one that he hadn't been before, "Where am I?," Kain thought looking around. Kain heard a noise as he activated his lightsabers. Blaster shots came from no where as Kain deflected the blasts with his sabers, he saw two stormtroopers emerge as he cut through them with his lightsabers. Kain then walked off victorious, searching for more imperials.....