Post by Kaya on Apr 22, 2011 17:26:24 GMT -5
Okay for now it's all of Kaya's siblings XD I'll probabl put in my other Avatar NG OC's later but for now here's Kaya's huge family. And another non-Avatar NG OC at the bottom who might surprise those of you that know me well XDD
*please excuse the fact that they are all very suckily sketched (especially Tenzin and Alishia)XD)
This is Kaya with her siblings. Now obviously Kaya isn't up for grabs because she's already mine XD
Name: Shya
Age: 16
Personality: Childish, daddy's girl, care-free and fun loving, much like Aang was in the first season. Very playful, and clashes with Kaya due to Kaya being independant and responsible, and Shya being... well... not XD
Appearance (This is really just for her colors becasue I didn't color the sketches XD): Black hair, blue eyes, outfit colors are: Dark blue and Orange.
Element: Air (Master)
Name: Kaiana
Age: 15
Personality: Very much like Mai, only a bit more humorous seeing as she likes to play pranks. So that being said she's kinda bored and sarcastic, with a sharp tongue.
Appearance: Black hair, Gray eyes, her jacket is orange but the rest of her clothes are different shades of blue and white.
Element: Water. She also prefers to use waterbending to form dagger-like weapons, which she learned from Mai.
Extra: She's Koda's twin
Name: Kita
Age: 9
Personality: being a little kid, naturally she's very naive, fun-loving, and reckless. She's also very stubborn and determined. When she sets her mind to something she will do it no matter what.
Appearance: Brown hair, gray eyes, outfit colors are blue and white for the dress and orange for the sleeves, and yellow for the bottom layer of the dress
Element: Water (not a master)
Extra: Aisha's twin
Name: Aisha
Age: 9
Personality: Her personality is very similar to Kita's but she's a lot less stubborn. She's probably the more adventerous of the two. Often draggin her win on adventers that they shouldn't be going on. She's a pretty rebellious little girl.
Appearance: Brown Hair Gray eyes pants are a dark brown with an orange jacket, and a light blue shirt.
Element: Air (not a master Hence the Tattoo-less-ness)
*NOTE that this is NOT my character, he is cannon, but this is MY interpretation of him (his show has not aired yet) so his appearance and personality are all made by me.*
Name: Tenzin
Age: 18
Personality: Being the oldest he puts up with a lot of crap from his siblings. Through it all he's still very calm, collected and wise. He has a high tolerance for a lot of things.
Appearance: Black hair, blue eyes, his outfit is more air nation than water tribe.
Element: I don't think i need to tell you but he's an Airbender.
Name: Koda
Age: 15
Personality: He's a lot like Aang in personality despite looking more like Katara. He's a fun-loving, free-spirited boy who doesn't really have a level head. He likes adventure, and danger, which explains why he falls in love with Oza, the daughter of Azula.
Appearance: Black hair Blue eyes, mostly wears blue and white with the oocaisonal splash of orange.
Element: Water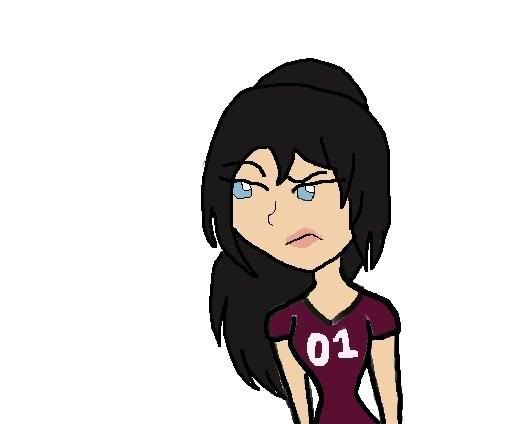 Aaaand here's that little shock I was talking about. This... is Rebecca Pedrosa my RaiKim daughter. Now, anybody who knows me know that I hate that couple with a burning passion equivilent to ten thousand suns, and that ha NOT, repeat NOT changed in the slightest. I just thought It's be interesting for Rynder and Leah and Xia if she were here XD
And I totally screwed up when I colored her hair. For some reason i made it black and It's supposed to be brown. Yup, I fail epically.
Anyways Her personality is basically her dad's. She loves sports, especially soccer, and is hard-headed, stubborn, and a bit of a rebel. She's like her mom in the sense that she loves technology, but she's nowhere near as fashionable, she choses to stick to her sporty outfits. Like her dad she has the gift of kindness, despite being rough around the edges.
In the unlikely event that you decide to take one of these guys, I don't care if you take some liberties with their characters, but please don't do a complete 360 with their character.