Beyonca
Apr 13, 2011 19:29:56 GMT -5
Post by Beyonca on Apr 13, 2011 19:29:56 GMT -5
YOUR BASICS
Name: Beyonca Dearly
Alias: none
Gender: female
Age: 6 months (13 in human standards)
Height: 20 cm
Weight: 96 LBS
Appearance: Beyonca like her mom has a bit of a pudgy build, Beyonca has two black ears and a spot on her cheek that is heart shaped, she also wears a blue collar like her mom and has a diamond studded earring in her right ear (originally a hoop earring but her design has changed a bit since). Her lower body is black with white heart spots on her thigh similar to her mom's white spots.
Picture (optional):
YOUR BACKGROUND
Mother: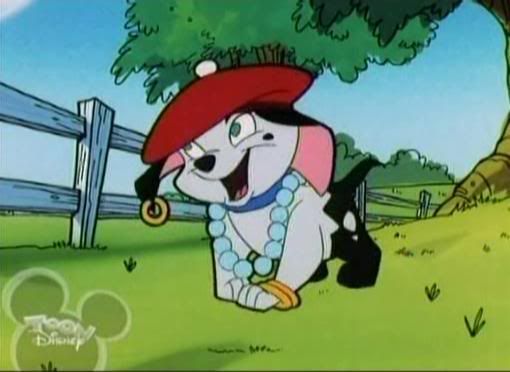 Two-Tone
Father: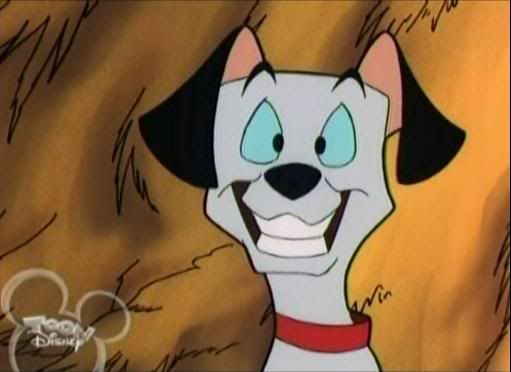 Lucky
Any Siblings?: Hunter (Eldest), Lucky jr, Stella, Luna, Dash, Dart, and Charm
How did your parents get together?: It happened along time ago when they first dated at the Four Legged Fall Ball, for Lucky he figured it a one night stand deal with Two-Tone but Two-Tone never forgot how happy Lucky made her that night, it was the first time she actually felt in love. Since then Lucky had went off on adventures foiling Cruella's plans while Two-Tone stood behind on the farm conflicted between her feelings for Lucky and her loyalty to Mooch, eventually Two-Tone broke up with Mooch for good when Mooch fell for Cadpig (which was temporary when Cadpig dumped Mooch for El Diablo whom she then dumped in favor of Tripod) Two-Tone finally told Lucky about her feelings for him sometime during the Dalmatian Vacation, Lucky at first was shocked to hear that but eventually he realized he had been ignoring Two-Tone for a long while since they dated at the fall ball, deep down he felt guilty about it, it was sometime after the Dalmatian Vacation (and a little inspired fro Roger and Anita's own marriage) the two became an item and their love blossomed since then.
AU you come from: fanverse
YOUR PERSONALITY
Basic Personality: Beyonca is a bit like her mom, she loves to hang out with her siblings and has a taste for fashion (although her sibling Stella has a bigger fashion taste), Beyonca also has a bit of her dad's adventure loving spirit (and some of his stubborness), She's also protective of her youngest sister Charm (alongside Hunter and Dart)
Likes: Hanging with her sisters, boys, accesories
Dislikes: Bullys, Cruella De Vil, Jean Pierre Le Pelt, fleas getting in her fur.
Fears: being alone, scary movies, the vet (gets it from her dad).
Hopes and Dreams: To find a boyfriend one day.
Temperment: She is sweet and kind around other people, but if her family gets messed with she becomes very angry. Especially if it's her sister Charm thats being
messed with
YOUR STORY
History: Born to Lucky and Two-Tone, Beyonca was one of eight pups in the litter. As she grew her pattern on her fur became a bit like her mother's. She was soon given her collar and her first earring which was like the one her mom wore, Beyonca later got an earring of her own, a beautiful diamond studded earring. During the time the pups were growing, their parents decided to visit Dipstick and Dottie and their pups but canceled when dalmatian puppies began to dissapear, fearing Cruella was behind it Lucky and Two-Tone kept close with their puppies till Cruella and Le Pelt were captured surprisingly by Oddball's paws. The families soon met as the siblings met their cousins Domino, Oddball, and Little Dipper. The pups also got to adventure at their parents' old home the Dearly Farm. It was there fate began to intervine for the pups as Lucky jr began to adventure like his dad, Beyonca along with Stella discovered the old yard sale box, Charm and Luna went to find some fun and the twins and Hunter went on their own way adventuring with Lucky jr, Beyonca decided to go for a rest and went to lay down on a haypile but before she closed her eyes she saw an intense flash of light, she yelped frightened as the light blinded her, the next instant she found herself alone without her family, she trembled terrified...
JUDGEMENT
Sample Post: Beyonca yawned, between dressing up with Stella and adventuring with Lucky jr, Beyonca found herself exhausted and decided to head to the barn for a nap. "Well I hope the hay is as comfy as I heard it to be." She yawned curling up on a pile of hay but before she could fall asleep she saw a flash of light, "Ow! that's bright!" she yelped covering her eyes. She then looked around to see something was wrong. "Huh?? Where am I?" She asked looking around "Mom? Dad?" She called out to her parents. "Lucky? Hunter? Stella? Luna?" She called out to four of her siblings "Charm? Dash? Dart?" She called out again, the pup whimpered looking around, the feeling of lonelyness was on her now. She was wondering how she got here and who pupnapped her so fast? All those questions and no answers.