Karimah
Apr 22, 2011 2:19:46 GMT -5
Post by Karimah on Apr 22, 2011 2:19:46 GMT -5
YOUR BASICS
Name: Karimah
Alias: Kari
Gender:Female
Age:15
Height: 5'4"
Weight: 110-115
Appearance: Karmiah has her mothers long dark hair, usually tied in a high ponytail. Her eyes are her fathers shade of brown and her skin is a deep tan. She usually wears an outfit similar to her mothers, only in a light shade of purple-ish pink with a thin veil-likeskirt over her pants
Picture (optional):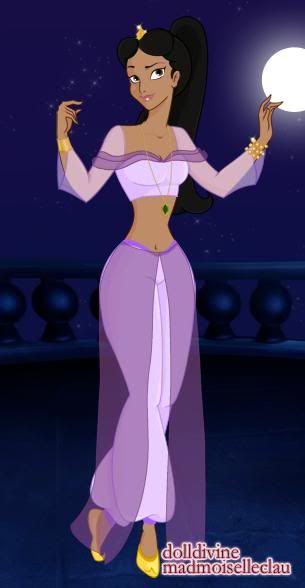 YOUR BACKGROUND
Mother: Jasmine
Father: Aladdin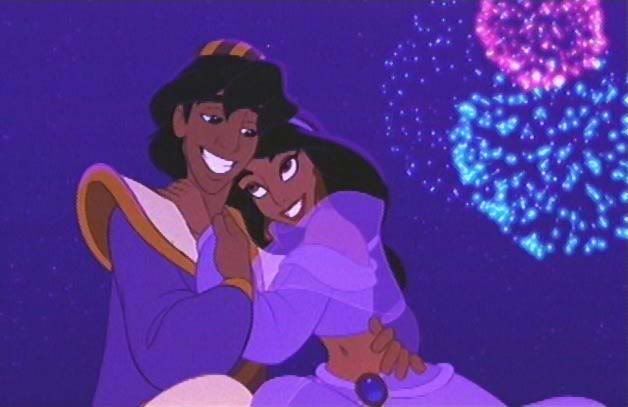 Any Siblings?: Her half sister from Sadira and Aladdin
How did your parents get together?: They met when Aladdin saved Jasminefrom a merchent, they had instant chemistry. She was a princess though and he was a streetrat. In order to be with her he diguised himself as a prince. The ruse didn't work as she disliked Prince Ali immediately. After she discovered the truth he covered it up with more lies, which she believed. When she discovered he lied again she was hurt, but loved him anyways. Her father lifted the law stating that only a prince can marry a princess and from then on they were in love.
AU you come from: Sadira's fanverse.
YOUR PERSONALITY
Basic Personality: She is a lot like her mother. She has her mother's strong mind. She can get pretty stubborn just like Jasmine. Just like her parents she like adventures. She is also very kind hearted and understanding, save for when it comes to Alishia or Sadira.
Likes: Her paents, friends, going on adventures, fun, genie, danger
Dislikes: Sadia, Alishia, being forced to do something, evil sorcerers
Fears: Sadira will try to take her father from her and her mother, Jafar
Hopes and Dreams: for now? Get back to her family long term, to be a great ruler for Agrabrah and go on as many adventures as possible
Temperment: She's pretty nice to anyone, who's nice to her, but can be seriously mean if she wants to.
YOUR STORY
History: Karumah is the daughter of Aladdin and Jasmine. She was told stories about how her parents had got together as a child. Although, she did love the story, she did kind of find it funnyher dad had to lie about being a prince just to be with her. She knew that only a prince was allowed to marry the princess was the lae during the time, as they have told her the story. She also heard of all of their adventures with each other and along with their friends.
Growing up her parents usually gave her freedom. Her mother was afraid of being overly proective, as she was gaurded her entire life, so she gave her daugther space, and her dad was so busy being the sultan, he hardly had time to keep a close eye on her. After an incident at age 10 where she almost lost her life her parents kept a watchful eye on her, now aware that their daugther was bor with a need for adventure.
When she had found out what had happened with her father and Sadira, who she had been told had always tried to take her father for herself, she was furious. Not just at her father but a lot more at Sadira than him, for that Aladdin did explain why it had happened. Karimah, just like her mother did, soon forgave Aladdin, but still holds a dislike twards Sadira for getting her father in the first place. Now Karmiah knows that she has a half-sisterfrom the incident between her father and Sadira. And believe it when i say she doesn't like it one bit.
Karimah was having a usual ride on carpet soaring around Aragbrah when a flash of light blinded her, causing her to lose control of carpet and crash into a tree, knocking her unconcious. When she awoke she was on the island.
JUDGEMENT
Sample Post:
Oh mother and father will not be please when they hear aabout this.
Karimah thought. Her parents had always told her not to wonder off without a notice on where she's going. She knew that once- well,
if
she gets home, she'd most likely get a lecture, just like every other times she'd had wondered off. Though it was usually normal for her, she'd go off without permission and get lecturedonce she got home. And usually the same lecture over and over. But she couldn't help it, she love taking adventures. "Well, maybbe until then, I could have some fun while I'm here..." she saidsoftly to herself, a mischieveous grin on her face. she was not so ure how or when or even if she'd ever get home. Worried as she was, her craving for adventure kicked in and she ventured further into the beach.